Monumental Inscriptions in Lancashire

Ashton under Lyne St Michael's Parish Church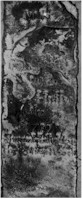 1. M.H. (Martha, wife of John Hulley Duckinfield,
1684 late of Digbanke)
-------Hull--------
1698 (Mary, wife of James Hulley de Opp)
(de Opp - of this Parish)
James Hulley
June the 13 1719
Shusan Hully March ye 30 1741
Aged 61
Location:- RHS of main west door on floor outside
Source:- Owen MSS vol.75 no. 386
---
2. Robert Hully died ye 9 day of Nov. 1731 Aged 73 years.
Likewise the Body of Robert Son of James Hully. Buried March ye 3 1735 Aged 7 years.
Also Jane his Daughter was buried May ye 21st 1744 Aged 18 years.
Esther Wife of James Hulley Buried July 31st 1753.
Also the Body of the aforesaid James Hully of Luzley end who departed This life January 24 1763 in his 75 year.
Also Elizabeth his Daughter abd Wife to Jonathan Cocker dep. April ye 21 1765 Aged 37 years.
Location:- Unknown
Source:- Owen MSS vol. 75 no. 385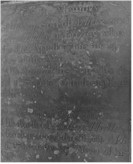 3. To the Memory of William Son of Arthur and Grace Hulley of Luzley who
died 12th April 1771 in the 4th Year of his Age.
Also Samuel his Son who died 11th Septr. 1790 in the 19th Year of his Age.
"Prepare ye young and gay
Your Sun may set at Noon
Like you be clad in Clay
Before another Moon."
Also the said Arthur Hulley who departed this Life March 24th 1795 in the 57th Year of his Age.
Location:- LHS of north porch (townside, in third row from church wall)
Source:- Owen MSS vol.75 no.415
---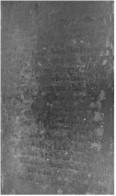 4. H. was interred the body of Sarah Wife of John Hully of Dukinfield Hall died June 20th 1833 Aged 42 years.
"She was but words are wanting to express it say what a Wife should be and she was that."
Also the above John Hully died Dec 15th 1841 in his 51st year.
Also William Bignall their Son in law died 31st of Jany 1839 in 24th year of his age.
"Mourn not for me my life is past,
I faithfully love thee to the last
My Jesus came I could not stay
His Spirit call'd my soul away."
Also James their Son departed his Life Dec. 24 1847 in his 22nd year of His age.
Location:- RHS side of north porch (townside, against church wall)
Source:- Owen MSS vol.75 no. 185
5. In M. of Sarah Wife of James Hulley of Luzley dep. Feb 12 1846 Aged 44 years.
Location:- Unknown
Source:- Owen MSS vol 75 no. 195
6. Pew with 'J HULLEY' etched on
Manchester Collegiate Church (Cathedral)
Mar 23 1725 Hooley Mary D. of Joseph
May 18 1740 Hooley John B/ John Market St. Lane
Feb 27 1747 Hooley Ann D/John
Mar 1 1748 Hooley Mary D/John
Manchester St Anne's Church
1. Sacred to the Memory of William Hooley who died February 13 1816 Aged 52 years.
Also Elizth his Wife who died November 11 1809 Aged 40 years.
Also Elizabeth Ellton who died january 4 1818 Aged 62 years.
Source: Owen MSS vol.13 No. 18
2. Here resteth the Body of William Hooley who departed this Life November the 12 1806 Aged 78 years.
Also Ann his Wife who departed this Life 27 of December 1814 Aged 79 years.
Here lieth the Body of William Wild Grandson to Willm Hooley who died Apr 8th 1807 Aged 3 yrs & 1 month.
Also Martha Wild their Granddaughtr who died January 14 1819 Aged 2 years & 7 months.
"Short was my stay, long as my rest. God called me because it pleased him best."
Source: Owen MSS Vol 13 No. 225
Oldham Hope Congregational Church
In Memory of GEORGE HULLEY, of Garden Street Mumps, near Oldham, who departed this life March 23rd 1851 in the 53rd year of his age. Also BETTY, widow of the late George Hulley, who died Dec.6, 1875 aged 67. Also GEORGE HULLEY, son of William and Sarah Stephenson, (and grandson of the above) who departed this life March 5, 1855, aged 3 years and 3 months. Also Charlotte, their daughter, who departed this life July 3rd 1856 aged 2 years and 3 months.
Source: information sent by GEORGE STEPHENSON (Canada) June 1993
Radcliffe St Andrew's Church
1. In Loving memory of EMILY, wife of FRANKLIN HULLEY who died De
Also PERCY, beloved Son of Franklin and Emily Hulley who died Aug 11th 1894 aged 6 weeks.
Also DORIS their daughter who died June 21st 1898 aged 6 months.
"suffer little children to come unto me
and forbid them not, for theirs is the kingdom of Heaven."
Also FRANKLIN their son who died of wounds in France Oct. 14th 1916 aged 34 years.
Was interred in the Somme Valley cemetery.
"By thy (grace) grant Lord that we at our last hour
fall not from Thee."
Location: On west side of churchyard.
2. Also of Albert Edward the dearly beloved husband of Elsie Hulley who died 14 Dec 1964 Aged 76 years.
"Forever with the Lord."
Location: On south side of churchyard in same grave as Jessie Carter.

Top of Page
Copyright © 2000-2022 Ray Hulley. All rights reserved.